Resource exploration and maintenance in the arctic presents unique challenges with respect to off-road travel logistics. Locations for exploratory drilling and maintenance of infrastructure often reside outside of existing roads and pads, requiring the need to build seasonal ice roads or snow trails for transport of equipment and personnel during the harsh winter work season.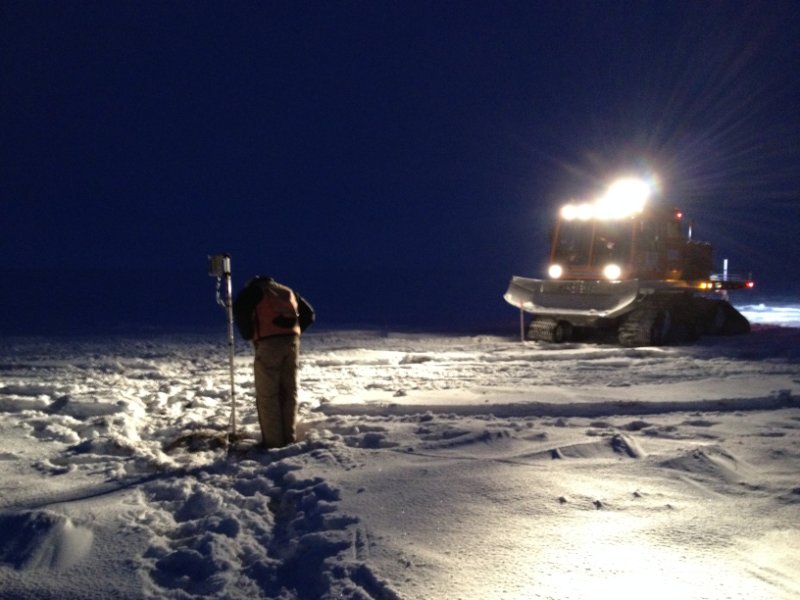 Off-road travel and ice road construction, if not well-managed, can lead to irreparable damage to tundra ecosystems.  Thus in Alaska, criteria are set in place by the Department of Natural Resources (ADNR) and the Bureau of Land Management (BLM) that establishes environmental thresholds for when ice road construction can begin, mostly related to snow cover and the freeze/thaw condition of the active layer.  Further, while construction and use of seasonal ice roads necessarily mitigates impact on the tundra, logistics are further complicated as the winter oil exploration season is dynamic from year to year (Figure 1), with recent measures taken to help stabilize the annual season length. Thus, methods to maximize the winter work season are critical in order to mobilize and demobilize drilling equipment, camps and personnel, and complete exploratory drilling objectives safely, and within a relatively short winter window.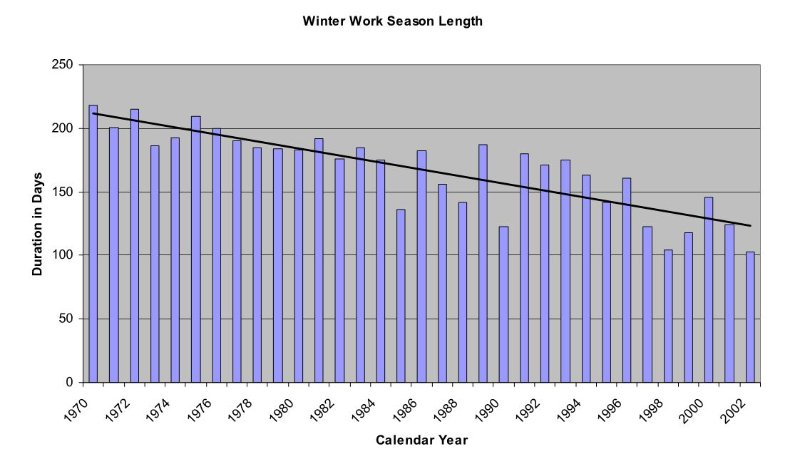 The number of days between the opening and closing of the tundra for exploration activity has decreased from over 200 days in 1970 to only about 100 days in 2003.  (From "Tundra Travel Modeling Project").
Be Data-Centric and Jump-start Your Operations
First published in the November/December edition of Scandinavian Oil-Gas Magazine, Hans Christian Krarup of Golder & Associates, emphasizes the importance of not solely relying on previously collected baseline data,
…everyone – in the Arctic and elsewhere – needs to be conscious about what data they use for what purpose. This is a particularly relevant issue for projects in the production phase as well as for exploration projects that have been put on hold for several years. Minimising operational risks, both in terms of the environment, reputations and legal liabilities, will require operators to stay informed and take a thorough approach when it comes to data gathering.
While Hans cites how inter-annual variability in sea-ice extent may influence offshore drilling operations and changing migratory patterns of Atlantic Bluefin Tuna may be a proxy for larger-scale climatic trends, seasonal arctic operations in the form of ice-road construction can also benefit from a data-centric approach.
For example, knowing in real-time, tundra conditions throughout a proposed ice-road route provide a hefty advantage when trying to mobilize a drilling campaign in a short period . A real-time feed of snow cover and active-layer temperatures answers the criteria questions proposed earlier (Figure 2).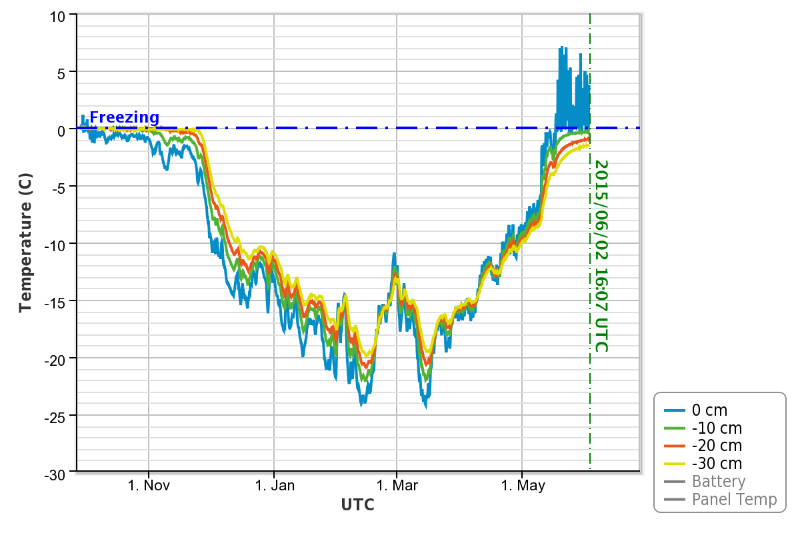 Data is collected from multiple sites in the field and telemetered via satellite in real-time to the web for rapid assessment of environmental conditions over a large area.
Up to date ice road data not only allows operators to mobilize exactly when conditions permit (often weeks ahead of agency-issued general opening), but also provides context on interannual variability and allows decision makers to respond to longer term environmental changes in their specific region. Further, environmental risk and operational safety is mitigated (i.e. proper data gathering would help avoid the situation shown in the cover photo!)
Business as usual will get us into trouble. Stay informed and always assume that"Yesterday's Baseline is not the Baseline of Tomorrow".
_______________________________________________________
– Also Interesting: Recent Flooding on the Dalton
For more information on Canadian Ice Roads, check out:
– The Diesel Gypsy
– Tibbitt to Contwoyto Winter Road
– NWT DOT